Yuuto hasn't really been blogging or tweeting since he left Black Run, but I just happened to check my Nau feed while he was updating... and augh, surprising exciting news! He's playing for (vistlip) Tomo and Rui's sideproject, Daikon Danchi (literally: radish apartments).
[2/5 1:56]
Daikon Danchi『☆Daikon Danchi News☆』
http://amba.to/VLWO8D
[3/1 16:32]
The support live is soon, so I thought I'd revive [myself] around now. Yesterday was the rehearsal. Maybe today there's also a rehearsal?
[3/1 18:22]
Playing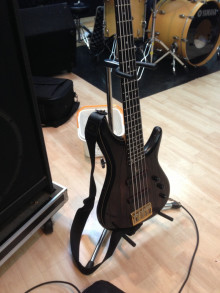 [3/1 23:12]
It's been awhile. Ah, I can still play the bass! It's awesome!
[3/2 00:22]
Daikon Danchi's good, huh. SUGI's good too. Yosh. I'll manage somehow. Let's go home. Let's go home and eat Chinese food. Let's take a shower. Let's go to Seven Eleven.
[3/2 23:41]
Tomorrow is Daikon Danchi!
[3/3 12:51]
Good morning!
[3/4 7:17]
I played bass for Daikon Danchi. Thank you to everyone. It was a fun day. I'll go to sleep with this happy mood. Anyway, thank you.
[3/7 18:02]
How many characters can you use in Nau?
[3/7 18:12]
Ho-ho-
[3/7 18:15]
140 isn't enough space to write my impressions of the Daikon Danchi live
[3/7 18:19]
Should I blog?
[3/7 18:30]
Hmmmm.
[3/7 18:43]
Okay, [maybe] later!
[3/10 19:00]
Ah, I didn't write(゚o゚;;
[3/10 19:06]
I drank too much alcohol and forgot(つД`)
[3/10 19:13]
I won't write now. I'm working. From Monday, I have bass practice again. Because on the 24th, I'll be supporting Daikon Danchi!
[3/10 19:36]
Thanks! You were helpful! Everyone's kind, ne!